Citizens Raise Ethical Concerns with Putnam County Sheriff's Office After Human Remains Discovered
CHASE MATHESON - march 29, 2022
PUTNAM COUNTY, TN -
It's very likely you've seen in the news this week reports that remains had been found in Cookeville, TN. These remains belonged to a young man who had been missing for nearly the last year, and whose family had been working night and day to find peace. After the discovery, the Putnam County Sheriff Eddie Farris issued a press statement.
"Over the last nine months since Bohannon was first reported missing, the Putnam County Sheriff's Office and District Attorney's Office has spent hundreds of hours investigating this,..."
Farris also claimed in the press briefing that the man was reported missing by his wife.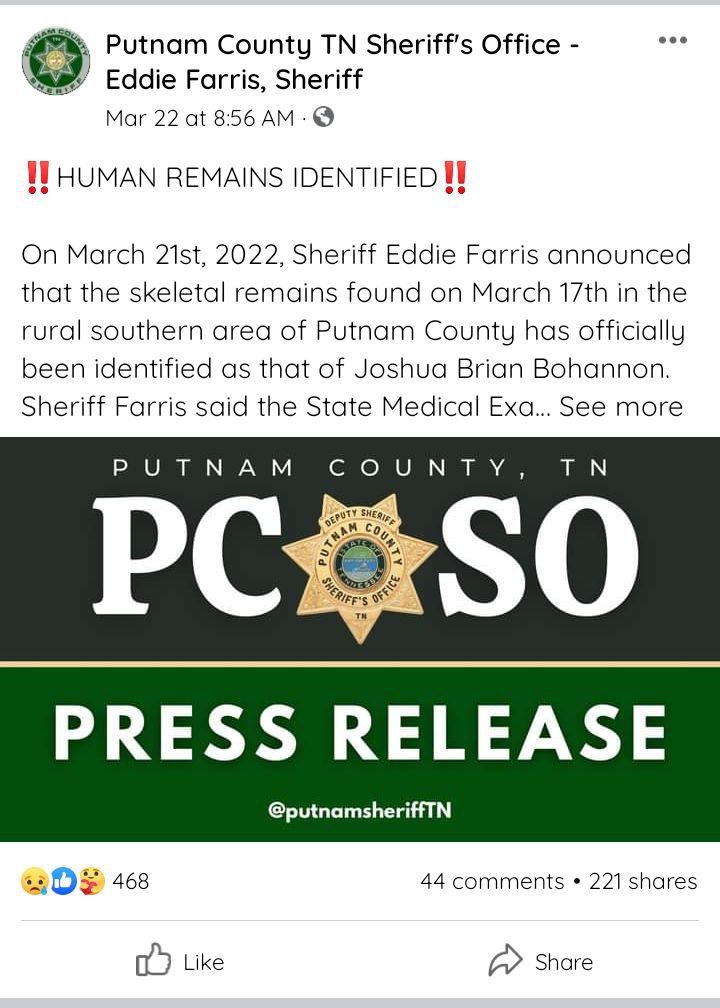 Screenshot from OFFICIAL PUTNAM COUNTY SHERIFF FACEBOOK
This is where things get interesting. Almost immediately after posting his press statement to social media and the story being shared by major news outlets, dozens of locals began to speak up. "This is very sad but this information is not correct. His wife never reported him missing..." reads one comment from News Channel 5's page.
"I was coming to comment the same thing." reads another.
Even more concerning are comments similar to this one, (please excuse the grammatical errors, this is quoted directly from Facebook),
"The sheriff department cant take credit for finding Josh. His family was told wasn't wasting taxpayers money on someone who just wanted to disappear. Anyone who believes the departments spin on this case need to wake up. The PCSD do deserve credit for developing a ban list which included members of the family..."
(
more on this ban list soon)
Sponsored: support free speech - sign up for josh who tv!
Not only did it seem overwhelmingly evident after reading some of these comments that there was more to this story, but when I went to the Putnam County Sheriff's Department Facebook page, there were LOTS of missing comments. In fact, it says there are 44 comments on the press release post, and at the time of this piece, only 18 were visible--all supportive of the department and none at all critical of them. That means that 59%+ of the comments appear to have been hidden or deleted. I reached out to some of the individuals who were being vocal on other pages, and found out why.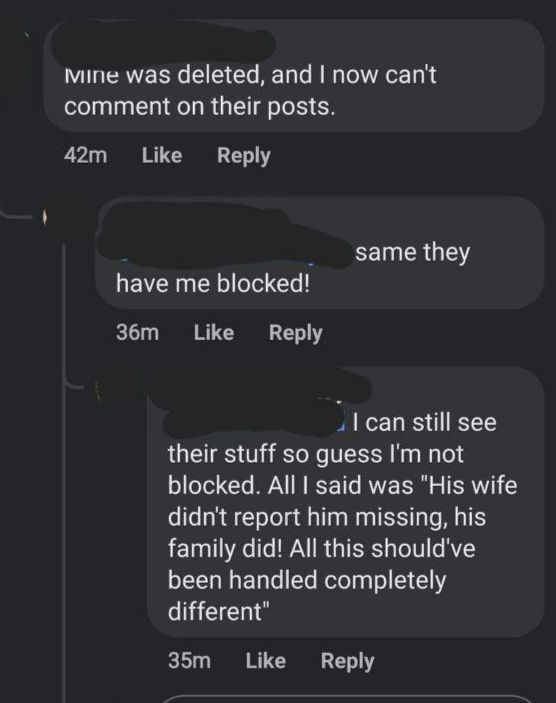 1 OF DOZENS OF COMPLAINTS
The Putnam County Sheriff seemed to put a spin the story for his benefit, but they also began to violate the rights of those citizens who decided to attempt to set the record straight. 8 comments on 1 post appeared to have been deleted along with the 26 missing comments on the first. As you may be aware from other stories I've covered, official government pages are not allowed to ban people or delete comments without due process. The courts view the "interactive features" of public officials' social media pages to be "public forums" protected by the 1st Amendment, at least from censorship by the government.
In my experience, deleted comments are a result of a scandal coming to light. I myself posted a comment asking to confirm that the missing comments had in fact been deleted; shortly after I was also blocked from even being allowed to view the page. I took to Instagram to pose the same question, and that comment was also deleted. For clarification, this is the official Putnam County TN Sheriff Facebook and Instagram pages we are talking about.
Why is this important? According to the PEW Research Center 66% of Americans get at least some of their news from Facebook, and about half of those regularly get their news from Facebook. When blocked, you no longer see posts from that person, including updates on missing persons, dangerous criminals and other legitimate and local safety concerns.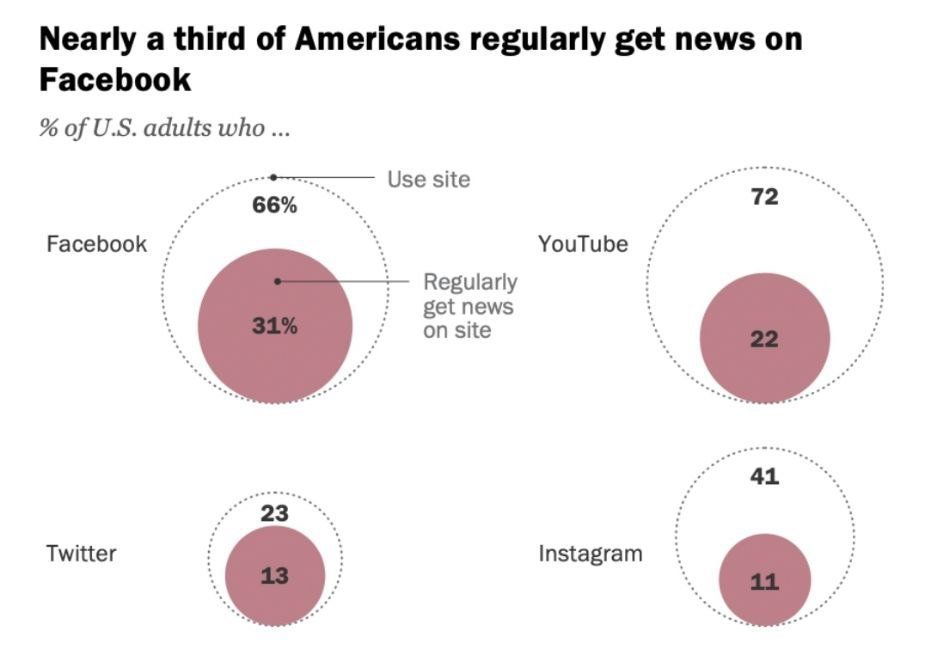 credit: pew research center
What's more concerning is that it appears this habitual silencing free speech is not the only form of discrimination perpetuated by the PCSD. Many of the people who were banned from the social media pages were also banned FROM ENTERING THE LOBBY of the Sheriff's office, including the family of the deceased according to the list below that was obtained via Open Records Request. The Supreme Court has ruled that there are very strict limitations on the government's ability to trespass someone from a public building without cause, especially if it interferes with the freedom of the press.
We reached out to a few of the people on the 'ban list' and discovered that not everyone on that list even knew they had been banned, including a local independent journalist.
What's worse, just 2 days after the remains of Mr. Bohannon were discovered and the scandal began coming to light, what seems to be a newly-created fake profile began attempting to intimidate the citizens speaking out about the story. Posting the home address of one of the local persons online, and making vulgar statements including calling one woman who questioned the banning practice a "slut". Some of the other information posted by the anonymous user, such as mentioning "report-only" criminal complaints that never resulted in charges, leave me believing the user has the ability to access law enforcement databases. Is someone closely tied to the Putnam County Sheriff's Department using their access in an attempt to intimidate people into silence? It's at least possible, if you ask me.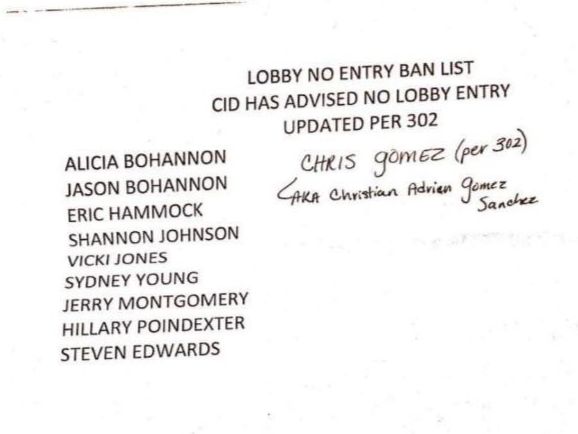 ban list obtained by open records request - credit erik hammock
With what appears to be multiple violations of citizens rights, another question comes to mind--this time over the speed of service. As we discovered when Act Free NOW broke the
Tennessee Death Nurse
story, sometimes people in positions of trust abuse that trust. If a nurse will admit to
intentionally delaying medical treatment to someone because they are unvaccinated
, what makes you think that the Sheriff isn't capable of the same thing? We do not have any proof the PCSD is guilty of this, but we feel it is a legitimate question given today's highly divided political climate.
The local Sheriff is our last line of defense when it comes to preserving our Constitutional rights, especially from Federal overreach. When you have a Sheriff routinely mistreat citizens, ban victims' families, and infringe upon their rights without remorse, it makes you wonder just how committed they are to truly protecting every citizen. What's worse, Sheriff Eddie Farris is also the named President of the Tennessee Sheriffs' Association--making him perhaps the most influential Sheriff in the entire state. I personally believe that most Deputies within the Putnam County Sheriff's Department are upstanding individuals doing their best to protect and serve, but it appears the leadership may leave a considerable amount to be desired.
We reached out to Sheriff Eddie Farris for comment, and at the time of publication had not gotten a response. However, we did find on his website the following quote,
"It is important for every county sheriff to provide a clear mission to all employees of the office and to continually promote the highest expectation for appropriate and professional conduct. Courage, compassion, teamwork,

trustworthiness

, professionalism, and community service

are fundamental values that are the basis of any RESPONSIBLE and EFFECTIVE law enforcement agency.

"
We are unsure if Mr. Farris has a genuine exemption from these values.
We would appreciate you keeping the family of the deceased in your thoughts and prayers in this difficult time. They deserve all the support they can get.
Do you want to continue to see coverage and updates on stories not being covered by the mainstream media? Support the Patriot Punk Network by buying us a cup of coffee or contributing to our gas expense via Venmo @PatriotPunkNetwork or check out one of our sponsors! All owned by Patriots!