Rutherford County Schools Now Hiring New Director
sAM ADAMZ - march 31, 2022
RUTHERFORD COUNTY, TN - While the venue may have been familiar, Monday's Rutherford County school board meeting was anything but ordinary. Convening on the first morning of the Spring Break holiday, board members voted to amend Rutherford County Director of Schools Bill Spurlock's contract to end his tenure at the helm of the 4th largest school district in Tennessee.
In a 7-0 vote, the Rutherford County school board unanimously agreed to terminate the Director's contract effective June 30, 2022. Spurlock's contract was originally set to end next June, and he will still receive an estimated $166,600 in salary for the position he had held since 2018. At that time, he was appointed to replace the retiring Don Odom.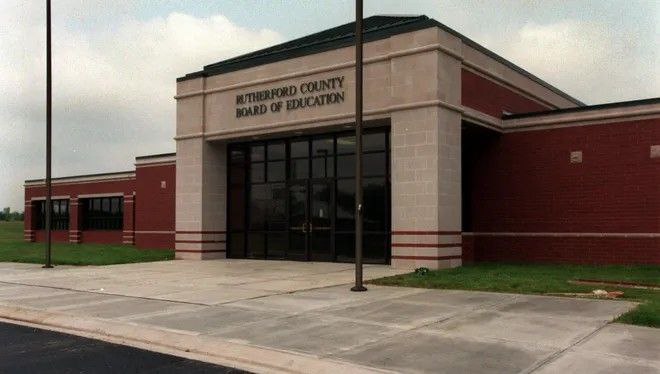 photo credit: sam adamz
Spurlock recently came under sharp criticism after a board review described the Director's behavior as what many in the community felt was troubling. The revelation of an atmosphere of intimidation & bullying from the Director's Office may come as a surprise to some, but a quick scroll through comments on multiple social media posts indicates that Spurlock's unprofessionalism was no secret in Rutherford County. The embattled Director was noticeably absent from the morning's proceedings, although his vehicle was spotted in the central office parking lot.
Sponsored AD: support free speech - sign up for josh who tv!
Only hours after the special called meeting ended, Patriot Punk Network obtained numerous documents from a citizen whistleblower, including emails, texts and open records requests results pertaining to Spurlock. One significant observation was an email from the former RCS staff attorney to Spurlock in 2018 advising him of an open records request for his personnel file by a Daily News Journal reporter.
Those personnel documents, since made public by a group of local parents, revealed that then-prospect Spurlock had apparently falsified his resume due to the suspension of his teaching license in Georgia. Unfortunately, the it seems DNJ never reported on the contents of the personnel file they had requested, Spurlock was appointed by the school board – and the rest is history.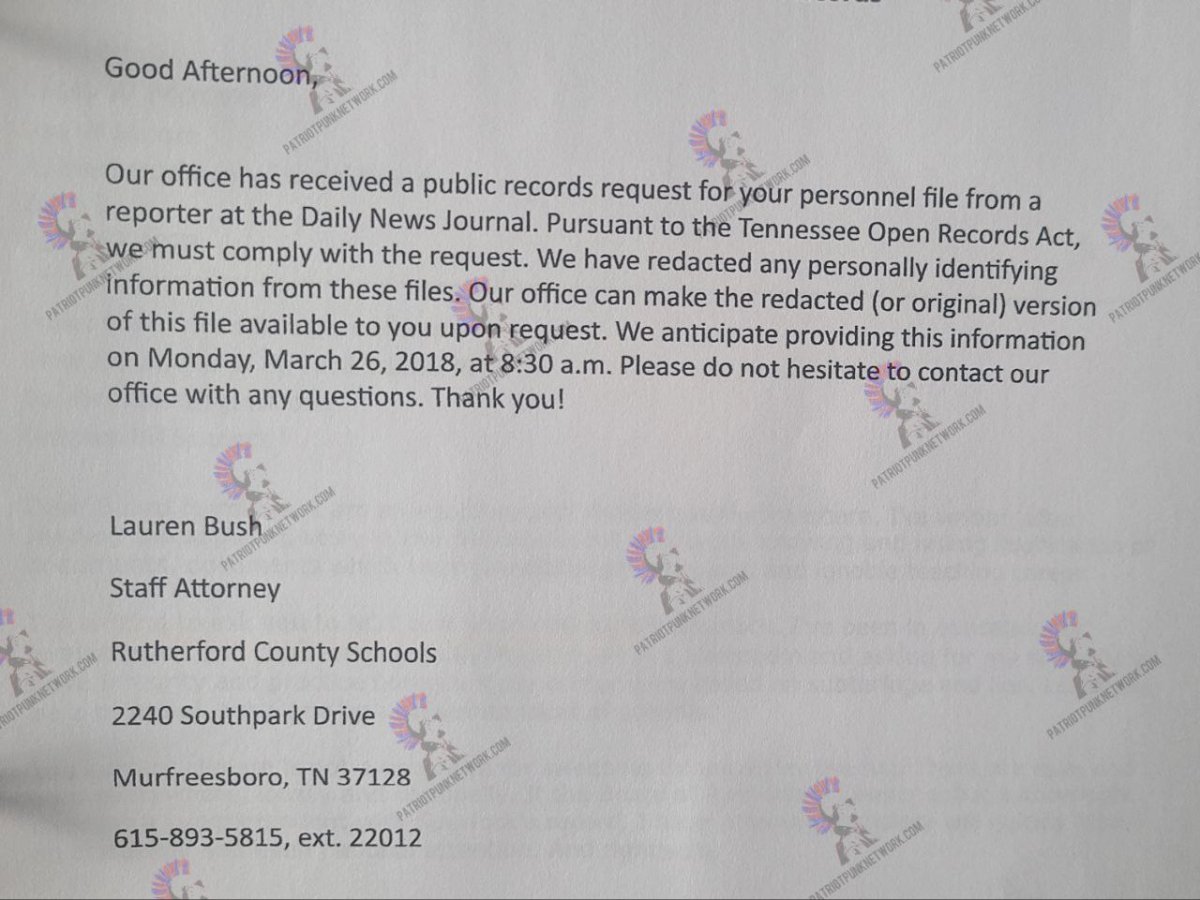 email obtained by patriot punk whistleblower
Spurlock drew the ire of many last fall when he posted a since-deleted Tweet that attempted to mock critics of the Director. The Tweet portrayed a GIF image of a lion with a message comparing those who opposed him to "sheep". This social media outburst came a day after a group of Rutherford County fathers attended the October 14, 2021, school board meeting with posters depicting Spurlock's alleged misdeeds, some of which are described here previously. He removed the Tweet from his account, which he used in his official capacity as Director to communicate information about the school system. However, on December 9, 2021, Spurlock was served with a federal lawsuit by 2 Tennessee residents whom the Director had blocked from his Twitter, which is a First Amendment violation. This legal action ultimately resulted in Spurlock deleting his Twitter account entirely. There is speculation that he may face unrelated lawsuits against him in the near future.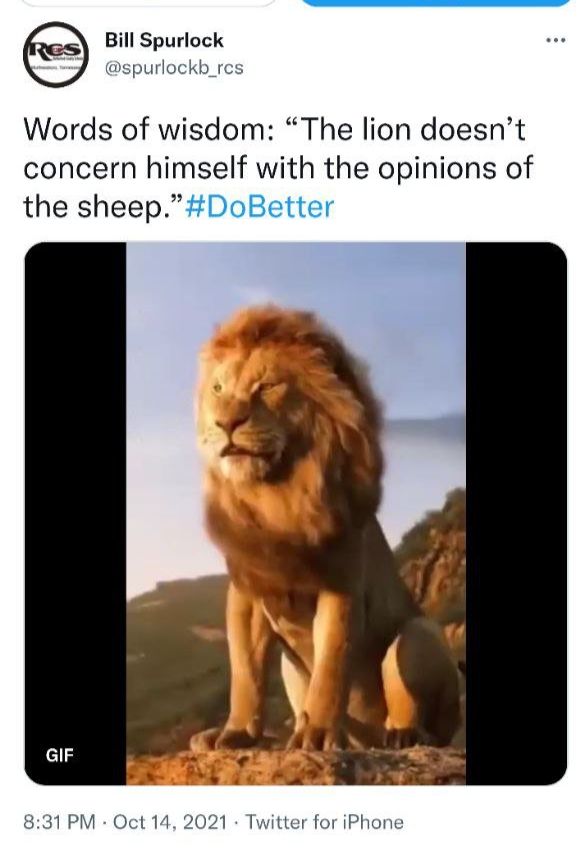 twitter
RCS Board Chairwoman Tiffany Johnson spoke with us on the direction of the school system going forward:
"I just want our families and community to know that we remain focused on improving education in Rutherford County for all. We have so many wonderful things happening in our schools, but we also have work to do to make improvements."
The Rutherford County School Board will consult with the Tennessee School Board Association in the coming weeks to find a candidate to fill the vacant Director position. According to the settlement reached, Spurlock will make himself available in an advisory capacity to his replacement.