How Safe Are Sumner County Schools?
Chase Matheson - May 10, 2023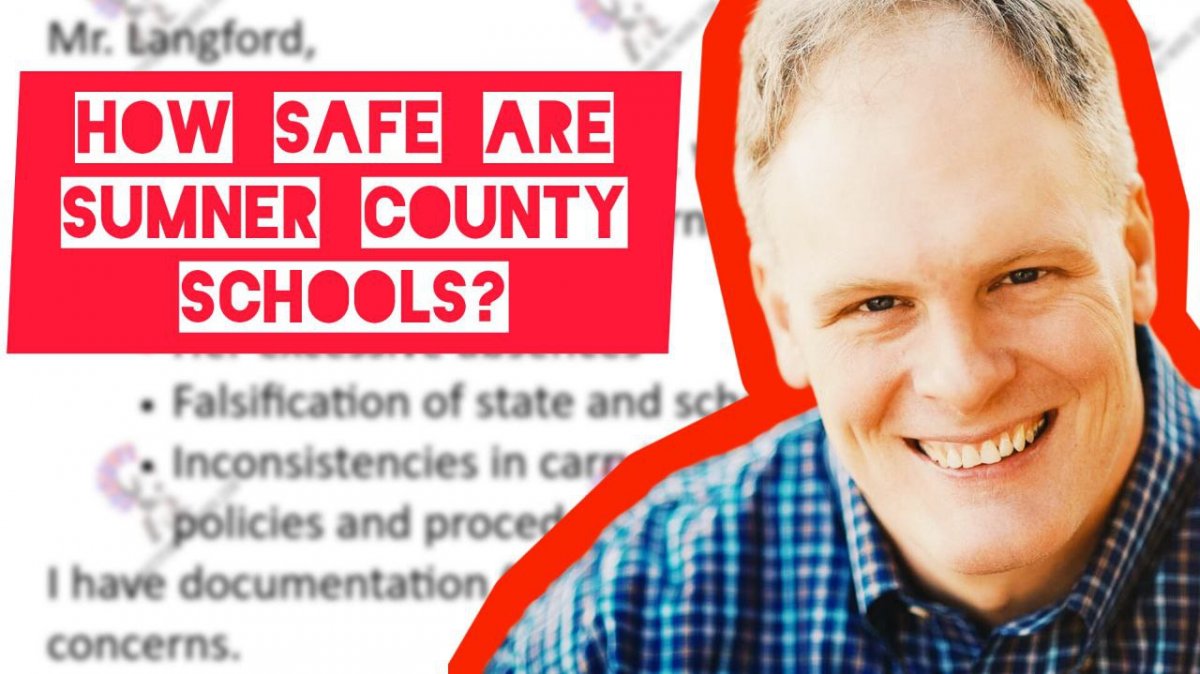 SUMNER COUNTY, TN -- New details are emerging surrounding whistleblower complaints from employees of Sumner County Schools. You may remember that i
n March, two Whistleblower Emails were released to the press. The
first
of the complaints detailed numerous issues with the pay scales of teachers, among other things. The
second
was from a whistleblower at EB Wilson High School which detailed falsified safety drills, routinely unlocked doors, and retaliation against those who spoke up.
Both of these stories were released on March 29, just days before Dr. Langford was to be selected as future Director. Current Director of Education Del Phillips leaves his position in June and there have been a plethora of accusations about a fixed selection process good ole boy politics.

As usual Sumner County Schools did not return request for comment on either story, but Director Phillips did send an email to board members the next day addressing the emails. The email sent, in its entirety, can be read below.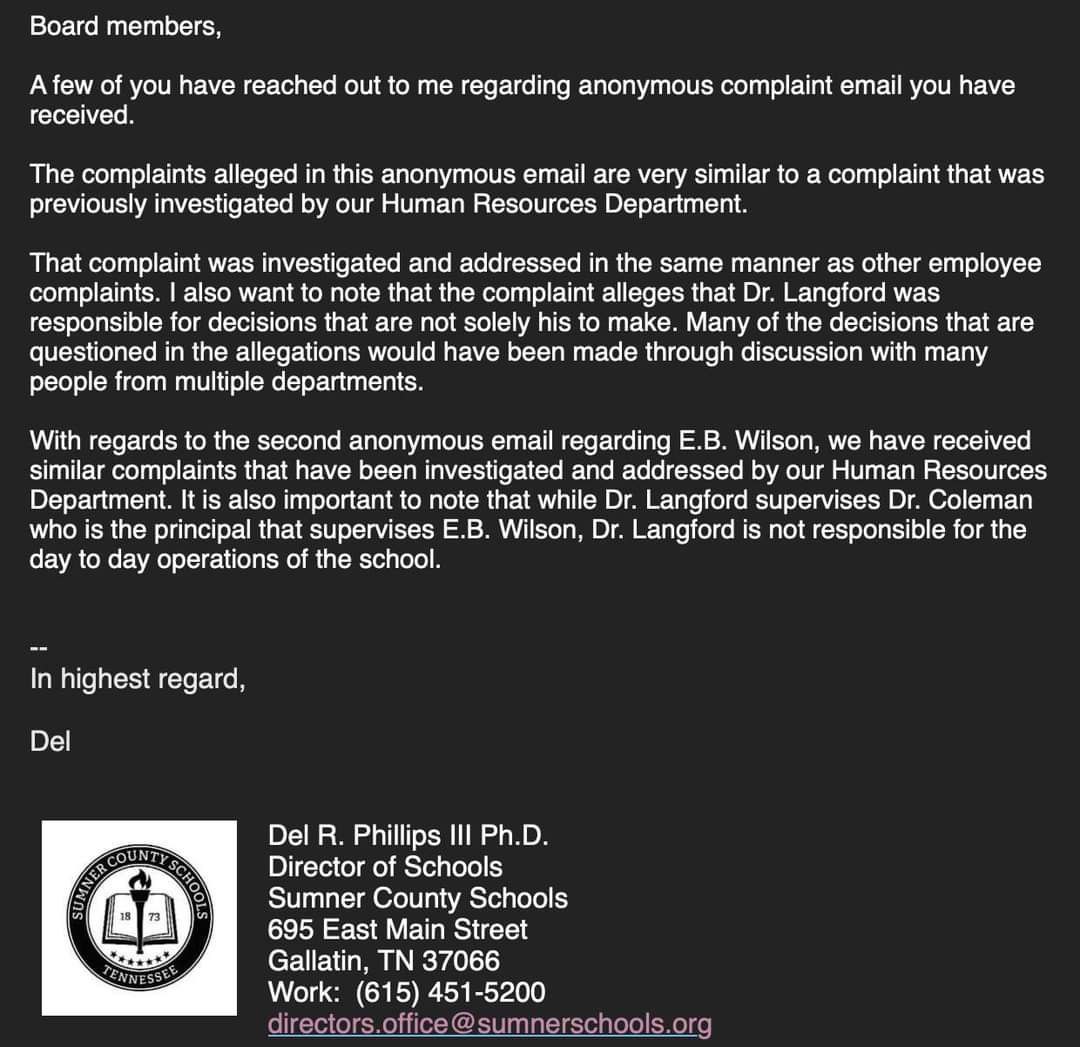 Reading this email, it's easy to get confused. The email says that both of these whistleblowers are similar to previous complaints that were already "investigated" and "addressed". Were the whistleblowers bringing up old news in an attempt to keep Dr Langford from obtaining the Director's position? Or was the school system covering up serious issues while giving parents and board members lips service? The Patriot Punk Network decided to follow up with the school to find out exactly what took place. The pattern of behavior we discovered is unsettling.
We submitted an Open Records request for copies of the original complaints, the entire investigative file for each complaint, and anything and everything that supported the statement that the issues had been "addressed". After sending us backdated emails and ignoring our request for electronic copies several times, later we were finally able to pick up our records in person, 29 days later. The stack of paperwork was over 80 pages thick--but almost none of it was responsive to our request. In fact, only 2 pages had anything to do with the matters at hand. When pressed, the school system apologized and said "most reporters" would want that paperwork too.
The whistleblower emails had made extremely detailed accusations of misconduct, and supposed to have turned over a binder of evidence, text messages and more. Surely this wasn't everything the school had, was it? Once again we clarified with Sumner County Schools exactly what documents we were trying to obtain in case there had been confusion. Twice the school system confirmed we had all documents related to the investigations, complaints, and corrective action.
Now we grew concerned. No one at the Patriot Punk Network had ever worked human resources for a school system, but we have for other companies much smaller in size. Rule number one is always "document everything." So why was there no documentation? Where was the binder? Was the school system just abysmal at record keeping? Or were they covering up wrongdoings because of liability concerns with their safety protocols? We knew we needed to get a copy of this Binder.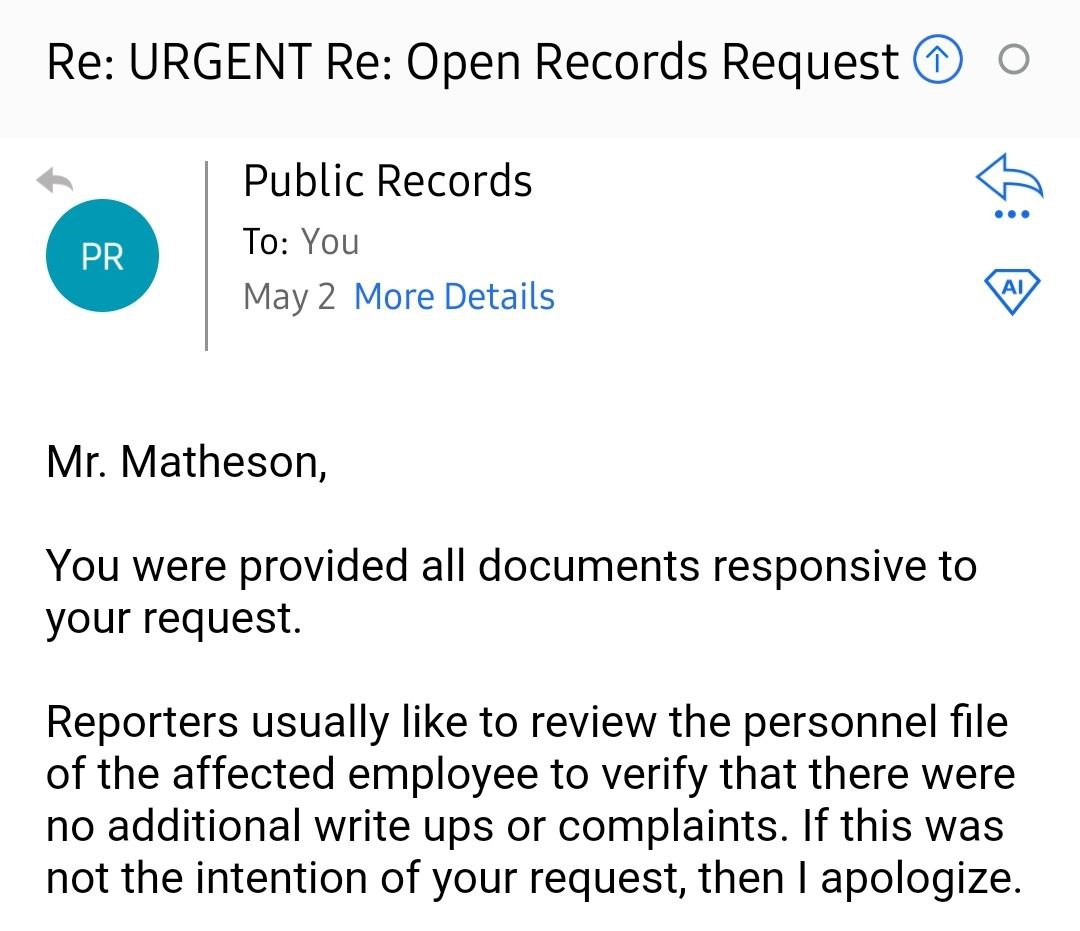 Guess what? We got it. Documents and audio reveal dozens of pages of information had been turned over to the School system as early as April of 2021. Emails sent to Dr Langford, copies of fire drill documentation with allegations of which drills had been falsified, text messages supporting claims that teachers were left at school with no administrative professionals, audio of a Principal, allegedly Dr Coleman, explaining the process as she seems to falsify a teacher evaluation.

Almost every one of these claims had been made in the EB Wilson whistleblower complaint, but somehow Dr Phillips failed to include these details in his statement, and also in the school system's response to my records request. They also failed to mention that by "addressed" they meant "did nothing". To Summer County School's credit, they did give me 2 pages--I guess 2/100+ isn't so bad.
But wait, there's more!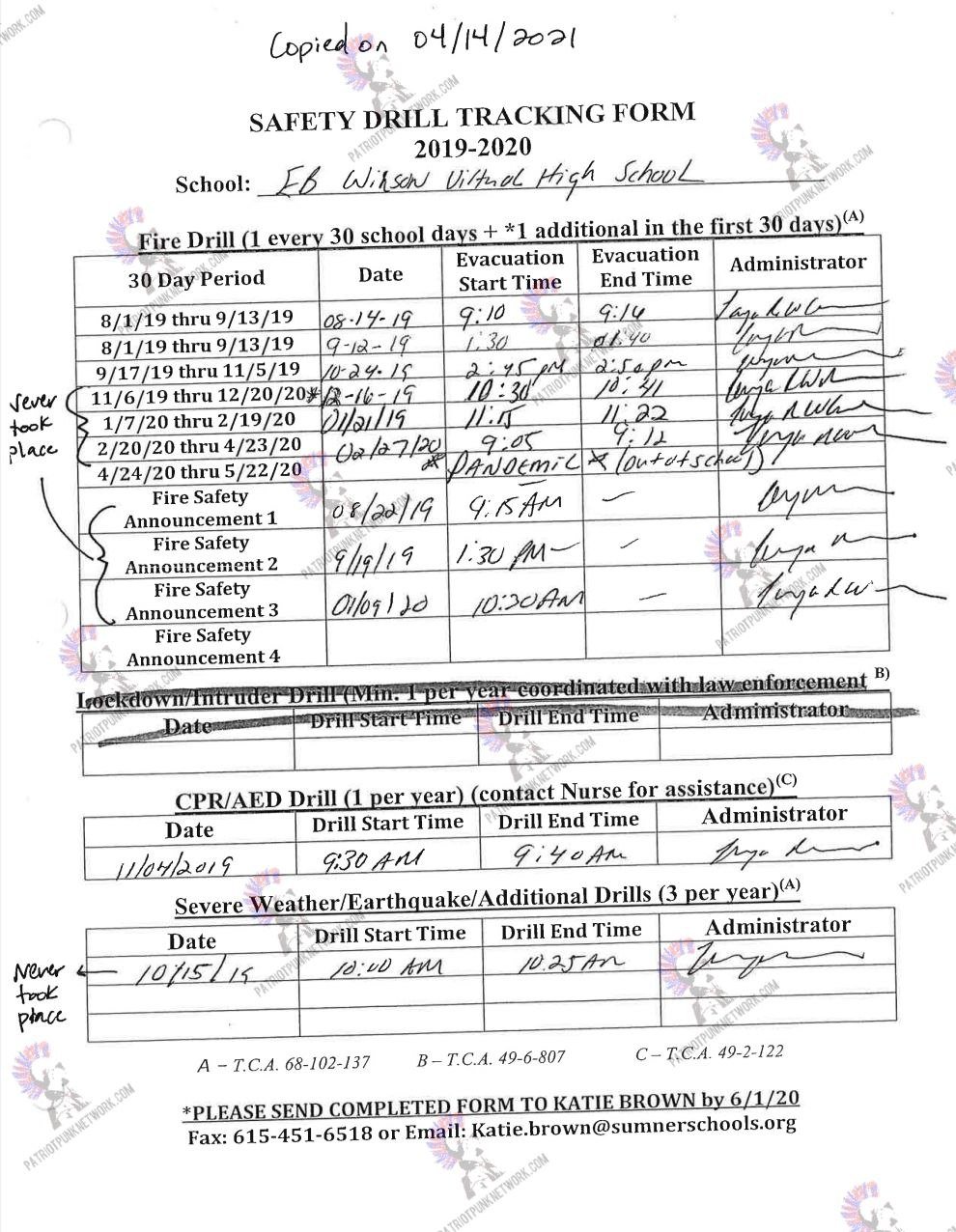 one of many documents alleging falsified safety drills
Perhaps the most concerning issue was what we discovered when we began speaking with employees familiar with the matter. Two separate employees claim that

NO ACTIVE SHOOTER DRILLS were conducted from at least 2018 until 2023

--

AFTER

the Covenant School shooting. AFTER 6 people were murdered just 40 miles away, in a school with locked front doors and administrators in the office all day. The employees confirmed that for several years the front doors of the school would frequently be left unlocked and unattended during the school day. They also said no SRO was provided until during this school year.

Fortunately it appears the Covenant School disaster was a wake up call for the powers that be--since then safety drills have been conducted as required (at least at EB Wilson). But how long will that last? These issues were not something only recently discovered. These concerns had been voiced multiple times over at least a two year period, with no accountability and multiple allegations of retaliation. To top it all off, one of the individuals involved in this piss-poor management fiasco has now been promoted to Director of Schools. Will things improve? No matter how hard the State Legislature works to address school safety, none of it matters if our schools and their leadership are allowing issues like this to go uncorrected--much less willfully covering it up.

If you are witnessing corruption, lies, deceit, or cover ups and want to expose it, please reach out to us at Tips@PatriotPunkNetwork.com
If you'd like to see more news like this that other networks wont cover, click on the support tab to find out how you can support our work!